In Extracorporeal Shock Wave Therapy, a cylindrical wave is generated underwater inside the headpiece. The wave is focused through the reflector and transmitted into the tissue. Focused Shock Wave produces a high pressure peak in a very short amount of time and is converted into biochemical energy in the cell and extracellular matrix. The physiological effects of Shock Wave on the tissue includes enhanced neo-vascularity, accelerated growth factor release, inhibition of molecules that have a role in inflammation, and stimulation of cellular processes that contribute to tissue healing and regeneration.
Physiological Effects
Increased blood flow/Neovascularization
Regulate inflammation/reboot the healing process in stalled, chronic conditions
Tendon tissue regeneration, remodeling, Facilitate tendon gliding
Fibrotic tissue and scar remodeling/ Resorption
Stimulation of osteo-regenerative processes, influence osteoblast and osteoclast activity
Influence transmission of pain signals/ Release of pain mediators
Reduce hypertonia in spastic muscle
This shoulder MRI shows the amazing results after only (3) Focused Shock Wave & (5) Laser Therapy treatments
Before Treatment
Labral tear
Inflammation and pain present
Bone disruption due to surgical implant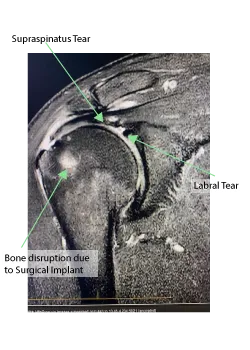 After Treatment
Muscle and connective tissues healed
Inflammation and pain improved
Bone disruption from surgical implant healed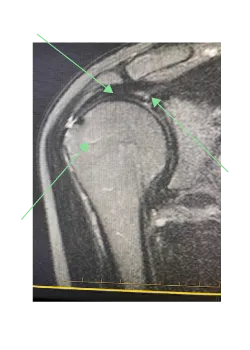 Focused Shock Wave: uses high intensity sound waves to stimulate and speed up the healing mechanisms.
Laser Therapy: uses focused light waves to decrease pain and inflammation in the cells which accelerates healing.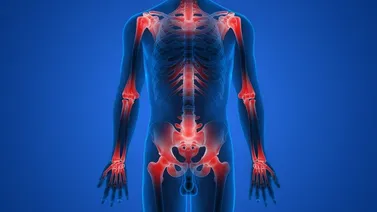 Chronic, stalled conditions are brought back into the acute phase to re-activate the body's natural healing state. The energy delivered into the tissue by Shock Wave creates microscopic injuries: this controlled acute trauma stimulates the development of new blood vessels in the area.

Tendinitis, plantar facilities, carpal tunnel syndrome
Treatment Principles
Dependent on-indication and tissue response
1-4 treatment sessions
5-10 days between sessions
Recommended Laser therapy after the Shock Wave therapy and between sessions
What might happens after the Shock Wave therapy
Redness of the skin, possible local discomfort, Bruising
Swelling, reddening, hematomas – Petechiae – Pain. These side effects generally occur between 5 to 10 days.
Importance: Avoid physical activities 48 hours post treatment
Contraindication and Precautions
Pregnancy
Coagulation disorder
Malignancy
Thrombosis
Corticosteroid injection (6 weeks)
Over growth plate (not for under 18 years old)
Over nerve roots and spinal cord
Acute inflammation, lower and upper ankle
History of rheumatic diseases
History of hyperthyroidism
Paget disease or calcaneal fat pad atrophy 6) Osteomyelitis (acute, sub-acute, chronic)
Poly-neuralgia
Infection in the area to be treated – Patient has a coagulation disorder or taking anti-coagulant medications
Patient has a prosthetic device in the area to be treated – Over ischemic tissue in individuals with vascular disease effects (e.g. foot ulcers, venous stasis, etc.)
Fracture of the Calcaneus
Immunosuppressive therapy
Long-term (≥ 6 months duration) treatment with any corticosteroid
Insulin-dependent diabetes mellitus, severe cardiac or respiratory disease
Bilateral painful heel, if both feet need medical treatment
Previous surgery of the painful heel syndrome
Previous unsuccessful treatment of the painful heel with a similar shockwave devices
History of allergy or hypersensitivity to bupivacaine or local anesthetic sprays
Significant abnormalities in hepatic function
Poor physical condition
History or documented evidence of peripheral neuropathy such as nerve entrapment, tarsal tunnel syndrome, etc.
History or documented evidence of systemic inflammatory disease such as rheumatoid arthritis, osteoarthritis, ankylosing spondylitis, aseptic bone necrosis, Reiter's syndrome, etc.
Implanted pacemakers, insulin pumps, defibrillators and/or neuro-stimulators
Open wounds or skin rashes
Tendon rupture, neurological or vascular insufficiencies of the painful heel, as assessed using the Semmes-Weinstein Monofilament test and the Ankle Brachial Index